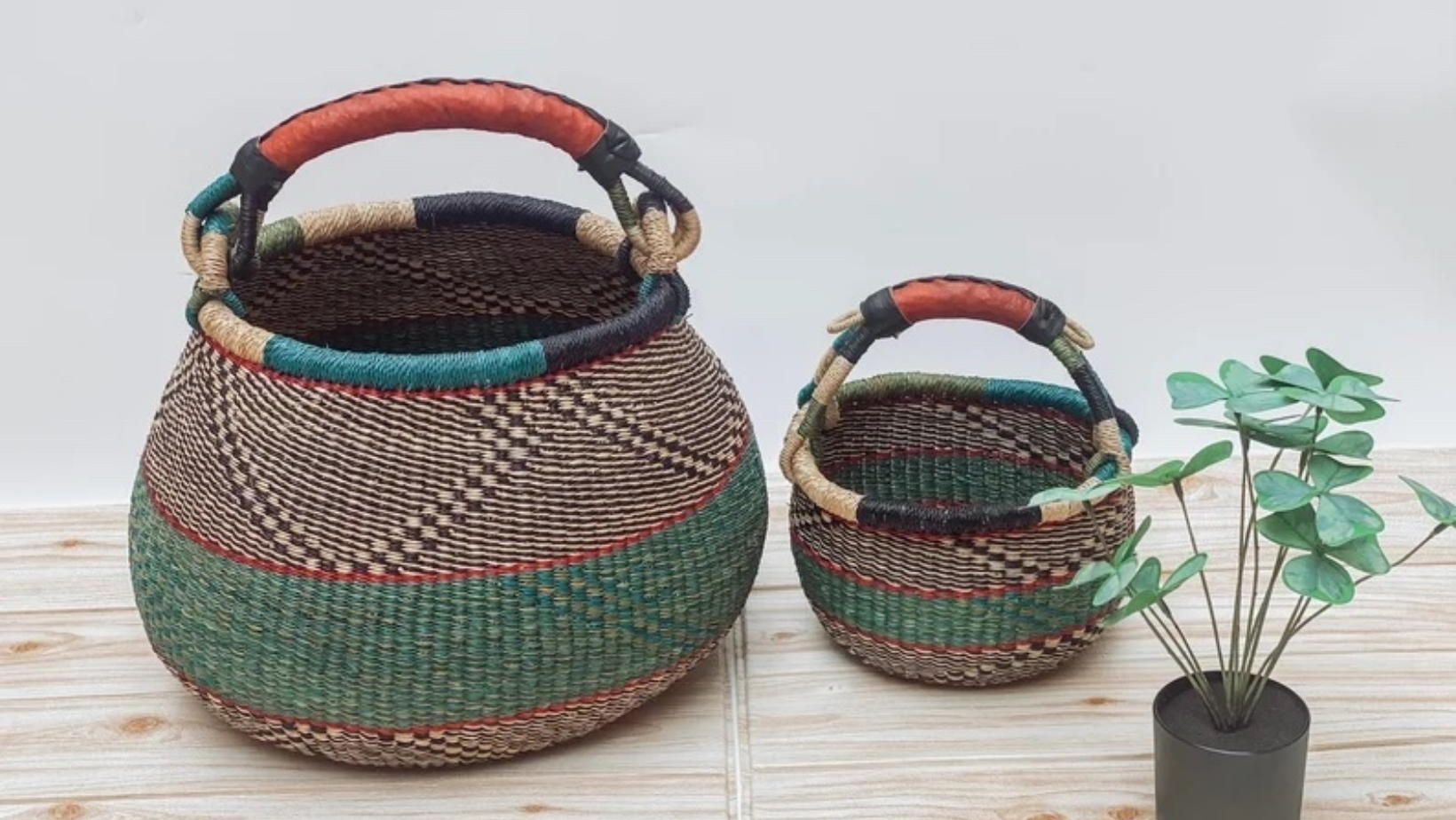 Bold, beautiful, and brilliant completely define the Bolga baskets. You might have come across them without even realizing the inspiring story behind them.
The baskets are bright with striking colors and originated from the town of Bolgatanga in northern Ghana, hence, named "Bolga baskets." With centuries-long history and striking designs and colors, they are everything to fall for.
If you haven't made them a part of your lifestyle yet, we have curated every single reason to shop for your favorite piece right away. 
What are Bolga baskets? 
Bolga baskets are a key part of Ghana's craft culture. They are well known for their beauty, sturdiness, and versatility. These traditionally weaved baskets originated from Bolgatanga in northern Ghana. What started without handles specifically for storage purposes is now revolutionized into varied designs, shapes, and sizes with handles and different weaving patterns to suit the tastes of foreign buyers.
The dry, erratic, and harsh climatic conditions make farming difficult. The production only can sustain household consumption, and nothing is left to sell on the market. So, the traditional tribes have made basket weaving a side business to earn additional income.
Bolga baskets come with strong and comfortable handles and are extremely lightweight. So, these make a perfect partner for shopping, picnics, storage purposes, or a mere decorative piece for your personal space. 
So, whether you have heard or not about these incredible Bolga baskets, we have gathered here a quick introduction to fall in love with them right away.
6 Reasons to make it a part of your lifestyle
1. Wonderful weave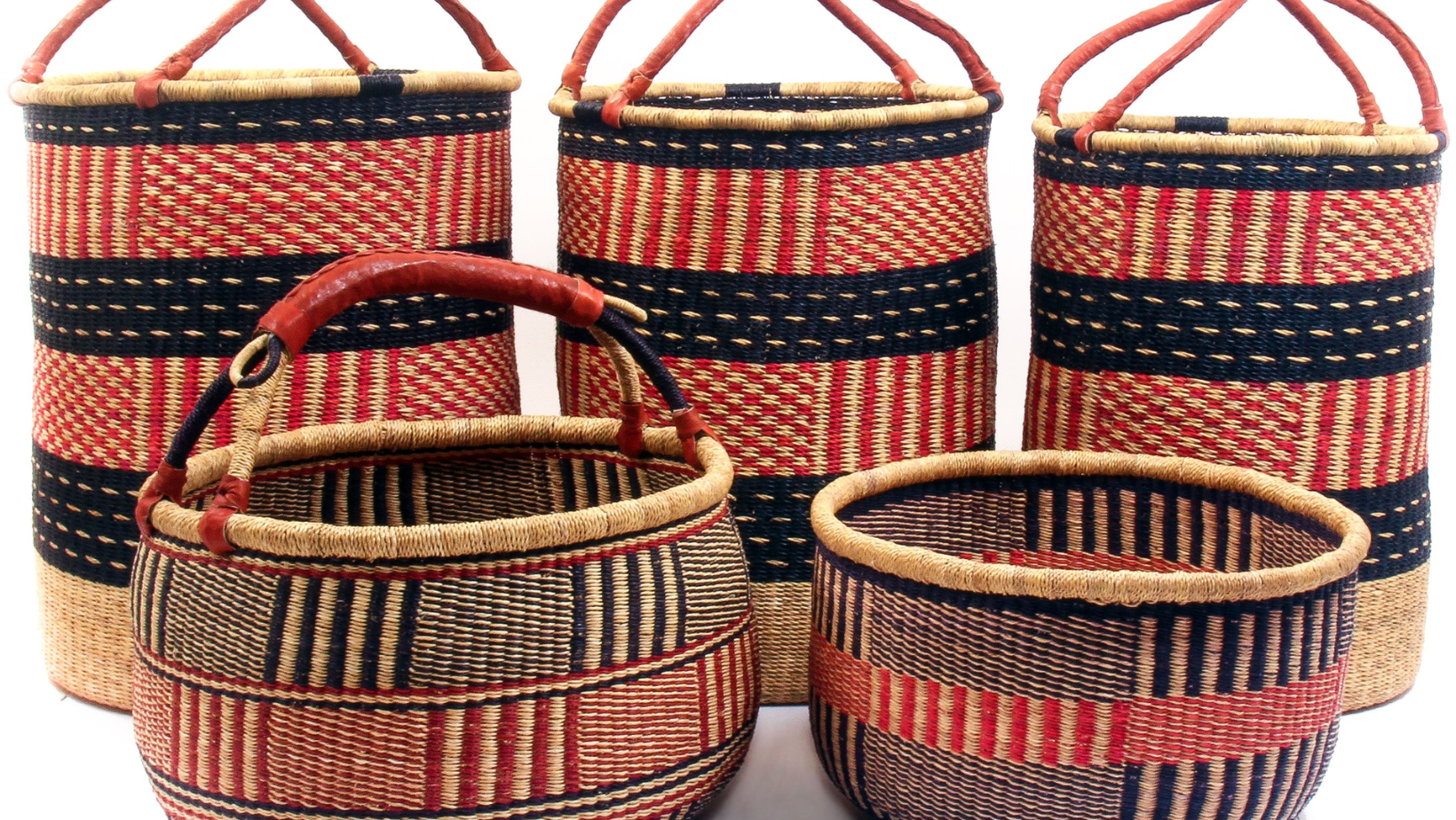 These baskets are intricately hand woven from the long straws of elephant grass, bought by the artisans in great quantities from the market. It is the natural grass that offers durability and flexibility to these baskets. It even allows the artisans to create mesmerizing patterns, shapes, and sizes.
2. Marvellous masterpiece
Every single basket is handmade and goes through a long and laborious making process. Every basket is split, rolled, twisted, and weaved, and it takes almost 3-5 days to make a basket of varying shapes and sizes.
The entire process begins with the careful selection of the right straws. These straws are then dyed in desired colors to be woven into the desired design, shape, and size. These myriads of striking colors make them a perfect pick for shopping baskets, storage baskets, or simply as an interior design piece.
3. Bolga baskets are vegan
Did you ever imagine a basket being vegan? Yes! Some of the baskets cautiously designed are finished without leather handles or rims to make them vegan. Instead, the baskets are woven with robust straw-wrapped tops, which are again beautiful and ethical on their own.
4. Super strength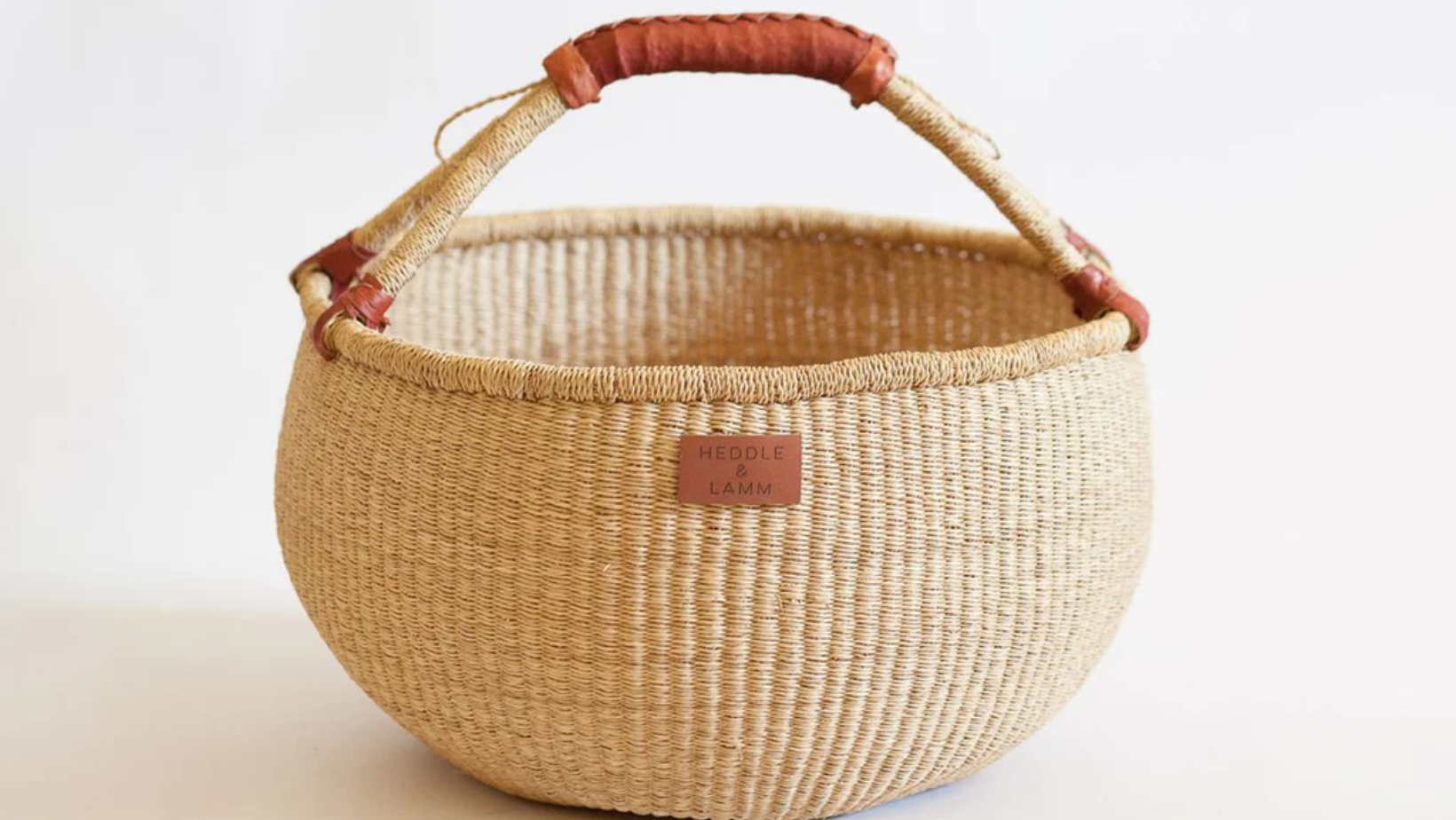 The incredible weave and material used to make these baskets results in an incredibly strong and durable Bolga basket. These can be readily flattened, filled, or used regularly without wear and tear. Additionally, the functionality garners these baskets a gold medal in the eco-credential category.
So, you can reuse these baskets again and again for a range of purposes. Lastly, not a minute scrap of plastic is used to make these baskets.
5. Bolga baskets are little pots of gold
Traditionally, the weavers were women who relied significantly on farming for food and livelihood. However, the dry, erratic rainfall and the tough climatic conditions make farming nearly impossible in Ghana. 
So, the women artisans opted to sit in the shade, and chat, while weaving these incredible baskets to get some additional income to support their families.
6. 100 percent fair trade
The market of Bolga baskets is a 100% fair trade. The ever-increasing demand for these incredible baskets around the world has allowed the artisans to sell their products in an open market. 
Fairtrade undoubtedly, benefits every single person in a community. And here, the fair trade of these baskets benefits the women artisans who receive a fair wage for their work. But, above all, you get to feel great about a bought basket daily. So, there is nothing else to argue with to support these baskets.
Endnote
While plastics are non-biodegradable and adversely affect our health and environment, these eco-friendly weave baskets are an incredible way to support our existence. Above all, the good feeling associated with buying a Bolga basket to support an entire community to embrace their livelihood is beyond argument. So, shop around your favorite piece and contribute to a great cause.