We have all seen that great movie scene where the dog's head is outside the window, cruising and enjoying the wind in its fur. As fun as this looks, dog car safety is something that we should seriously think about.
Just like children, dogs are not easy to keep safe in the car. Whether it is a short drive around the block or a trip, dogs also deserve the best care when ensuring their safety in a car.
When you think about dogs in the car, your main focus is usually on ways to safeguard your back seat. However, the dog's safety should be the primary concern, and there are several ways that you can ensure that your dog is safe in the car.
Secure your dog
Even though cars are mostly designed for humans, there are measures you can take to ensure that your canine friend is safe too. Restraining your dog may feel a tad unfair, especially if they enjoy riding shotguns or sitting on your lap.
However, letting your dog sit on your lap can be nice and cuddly but very unsafe for both of you. This is because as you drive, your dog can stand on your lap and block your view or leap suddenly and startle you. In addition, accidents can happen at any time, and this is why it is important to secure your dog.
Choosing the right way to secure your car depends on:
● The size of the dog.
● The number of times you intend to use the restraint.
● If the method you have chosen to secure your dog is tested and approved.
● How trained your dog is.
Thankfully, there are several options you can choose to secure your beloved dog in the car.
Crates
This option is best for dogs already trained to use a crate. The crate should be the right size for the dog. By right size, I mean that the dog should be able to sit, stand, move around and lie down comfortably. It should not be too big as the dog will be thrown around in case of an accident.
Dog seat belts
Dog seat belts are another way to prevent the dog from jumping on you as you drive. The dog seat belt works just like a regular seatbelt. You buckle it and attach it to the dog's collar. The seatbelt is long enough for your dog to sit comfortably but unable to move around.
The seat belt is adjustable; you can change it to fit your dog and ensure it is safe. You are spoilt for choice as there are a number of seat belts that can fit all car seat belt receptacles.
Dog car harness
A dog harness is one of the safest ways to secure your dog. The harness fits around the dog's chest, and the car's seat belt goes through a hole or is strapped on the back. A dog harness is great as it protects the dog better in case of any sudden car movements.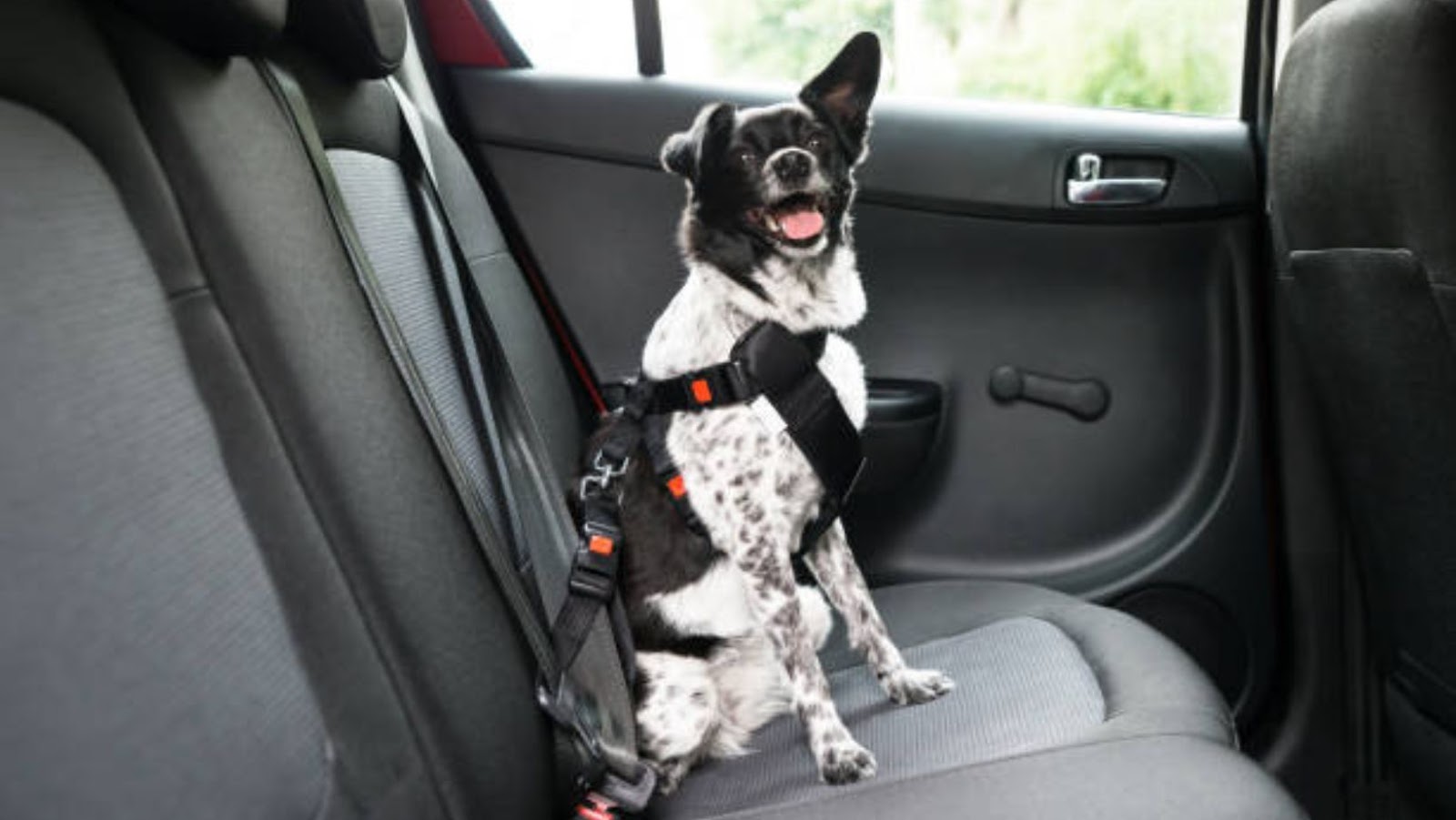 You can find a dog harness that fits the universal car seat belt buckle. Ensure you get a Center for Pet Safety (CPS) approved harness.
Pet Carrier
A pet carrier keeps the dog safe by strapping your dog in the carrier with a harness. A pet carrier is best for containing smaller dogs, dogs that do not like car rides, or dogs that get too excited in a car.
Barriers
Barriers are ideal for the curious dog who likes to explore the car as you drive. Barriers keep the both of you safe as they prevent the pup from coming to where you are. The dog barrier you choose depends on your car and how your dog is trained.
Make sure that the barrier is secure before you go on your drive. You can put a dog barrier at the boot as a divider between the boot and the back seat. You can also choose a barrier between the back seat and the driver's seat.
Another advantage of the barrier is that it can limit where your dog is and reduce dog–related mess from spreading all over the car.
Dog car or booster seat
A dog car seat or booster seat is also ideal for small dogs. Your dog will have an outside view as you drive while being safe. The car or booster seat is buckled onto the car seat. It also comes with a harness that secures the dog inside.
Ventilate the car
As we all know, a car can get very hot. It is, therefore, very important to ensure that your car is well-ventilated when traveling with your dog. You can choose to open car windows or drive with the A/C on.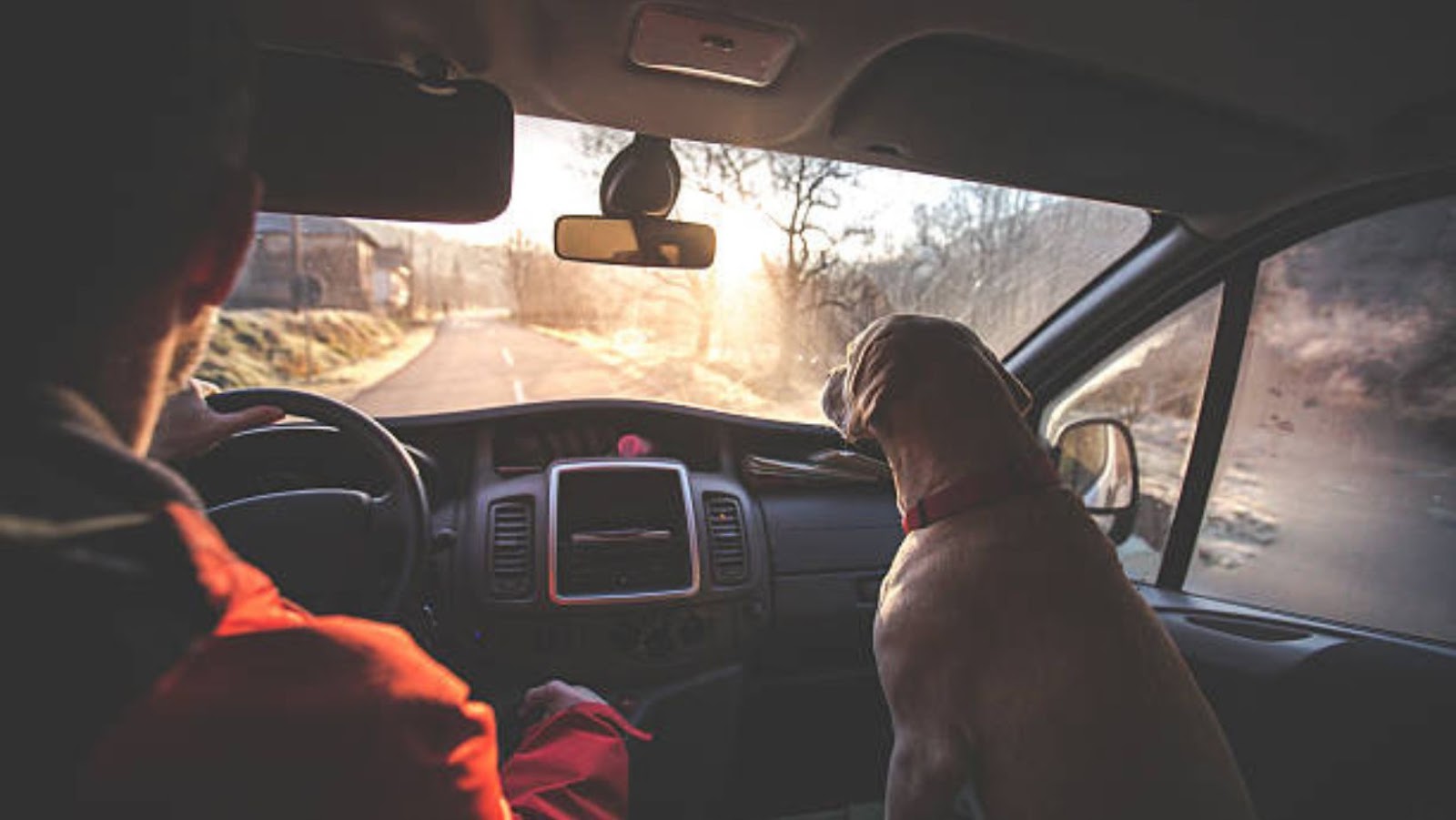 Remember the dog movie scene above? As cute as it looks, it is not safe. So, if you choose to open the car windows, ensure the dog doesn't hang out the window. The wind could dry their eyes, or they could be hit by something thrown out of another vehicle.
Just like you would travel with water, always make sure that you have some water for the dog. Moreover, never leave your dog unattended in the car. Always child-lock your car doors to prevent the dog from jumping out.
When you think about it, your dog's safety is ultimately your own. In addition, understand what is legal in your country or state to avoid fines.